Joe Dolwin, Health and Safety Officer,
Joe Dolwin, Health and Safety Officer, of the JCW Group, has recently passed his Nebosh General Certificate in Occupational Health and Safety.
Joe, joined the JCW team in 2006 and worked on the JCW Acoustic Flooring team for 11 years, installing acoustic flooring all over the UK.  After many months of soul searching Joe decided to hang up his work boots and venture in to a new career path of Health and Safety.  Joe studied at 3B Training Centre in Wigan and successfully passed his course in November 2017.
Further to his qualification Joe will now be responsible for all aspects of Health and Safety requirements for all the divisions within the JCW Group, including forty employees on site for JCW Floor Screeding, fourteen for JCW Acoustic Flooring, the warehouse for JCW Acoustic Supplies and all employees at the JCW Head Office.  We think it's safe to say that Joe has a lot of responsibility on his hands in his new role.
Laura Keegan, Commercial Director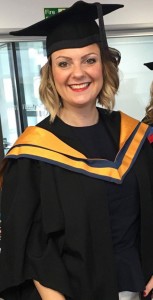 Laura Keegan, Commercial Director, of JCW Acoustic Supplies Ltd, has recently passed a Level 5 Certificate in Human Resources Management (QCF).
Laura, joined the JCW team in 2007 and worked within the sales team for 6 years.  After promotion in 2013 to the role of Commercial Manager, Laura became more involved in the day to day running of the business, including co-ordinating the sales team of six plus a further five employees in the warehouse.  Over the last four years the team has steadily grown to its present strength of sixteen full time employees.  Following her further promotion to Commercial Director, Laura decided to go back to college in order to further her education and is now able to contribute those additional skills for the benefit of the business.  Laura attended Wigan and Leigh College one night a week from September 2016 to May 2017 and successfully graduated in October this year.  This qualification will now help Laura in all areas of the business by following best practice and ensuring that JCW Acoustic Supplies is an even better place to work.